Building Bright Futures with the Fall/Winter Young Makers Cohort

As we wrap up our Young Makers Fall/Winter cohort, we wanted to take a moment to celebrate all the inspiring youth that came through the program from our referral partner Jovenes last year. 
Over the last six months, these Young Makers learned to sand, finish, machine and shape our line of solid wood homewares and furniture items such as the Eucalyptus side table Taaj is making here. 
In addition to receiving paid training in woodworking, the Young Makers also were connected to other job opportunities in the industry through a series of field trips and studio visits such as this trip to Angel City Lumber in October.
They gained sales, marketing, and outreach experience at community events such as WalkUnitedLA, a family-friendly walk/run hosted by United Way of Greater Los Angeles in partnership with the Los Angeles Rams.
And had the opportunity to share their new skills with the community via our public workshops programs where Quin and Taaj taught participants how to sand and finish wood photo holders.
All while building a positive, supportive and lasting creative community.
We're thrilled to have three young makers continuing on to join our advanced Community Builders Program in the Spring and can't wait to see the lives they continue to build both inside and outside of the woodshop!
---
Also in News
Recently, our Community Builders Program was tasked to fabricate a 12 foot long communal bench for the 56 unit Aster Apartments, an affordable housing site located in South LA.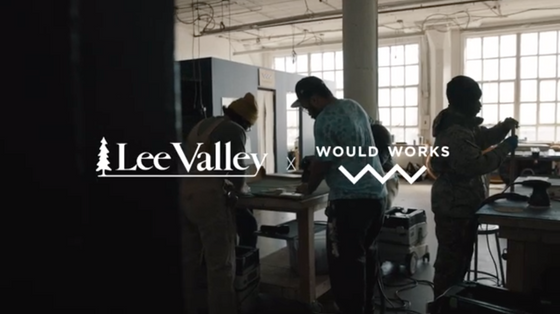 The last few months have been really exciting because we were invited to be apart of Canadian company 
Lee Valley
's ongoing series, 
Inspired to Make
.
This winter Would Works staff and Artisans from our Community Builders Program accompanied our friends from 
Angel City Lumber

 
(ACL) on a trip to the Angeles National Forest where we acquired large fire damaged pine logs that we'll be turning into outdoor furniture this Spring!