Designing Furniture That Makes Waiting Not Feel Like Waiting
For the last month, a team of Would Works staff members and community partners have been participating in an intensive design workshop at the Stanford d.school called Designing for Social Systems.  We worked with d.school faculty and coaches along with ten other nonprofits--each with their unique design challenge--to help redesign the waiting area experience at the Skid Row Community Refresh Spot.


The Challenge
Our design challenge was to create a welcoming, safe and comfortable place for people experiencing homelessness to gather and receive services at the Refresh Spot--a hygiene station in Skid Row. At the time we took on this challenge, the waiting area was as pictured above, with a scattering of indoor office furniture spaced at 6' intervals in a converted parking lot. Our task was to transform this waiting area, and waiting experience into something more comfortable, intentional, accessible and secure.
The d.school methodology stresses the importance of human centered, equity driven and community based design. This means that as designers, we needed to analyze our own individual perspectives, privileges, and relationships to power. We also needed to take into consideration the various stakeholders and larger political and social systems affecting the population we were designing for and with.  And finally, we needed to involve the community who will be using our designs at every stage in our process--that is, the unhoused people who live in Skid Row and rely on the Refresh Spot's essential services every day.
Our work began with guest interviews. Above, Would Works team members interview a guest at the Refresh Spot about his experiences in the space.

Plot Twist (the Green Chair)
On the first day of our investigation, indeed at the exact time of our first site visit, something unexpected happened.  An outside donation of 150 outdoor chairs was unloaded at the doorstep of the Refresh spot for the waiting area.  Suddenly, the scope of our project was either rendered irrelevant, or we needed to figure out how to pivot our project and discover another area of need.  
The Pivot
Diving into interviews with the Refresh guests, observations of how the new furniture was being used, and co-design sessions with stakeholders all helped guide us in the direction of the pivot.  We discovered from these investigations, and the unpacking that we did with our d.school coach and workshop leaders, that there was plenty of need for design intervention beyond providing physical seating for the waiting area.  Our project became more about adapting existing fixtures and objects to address the core needs of the guests who used them.
In fact, we noticed that guests were already creating their own adaptations and hacks to make the existing furniture work for them.  Like this woman below, who pulled over a second chair for her bag so she wouldn't have to rest it on the ground. 
Core Needs, Basic Themes & Inherent Tensions
Below are some of the themes that kept coming up in our interviews, observations, and co-design sessions and the design questions they led us to explore:


Security:

 In this congregate setting, guests were worried about the security of their belongings.  Fear of theft created anxiety and decreased relaxation and engagement with others.  

At the same time,

the ReFresh Spot stands out as a place where people are not policed and are trusted and respected by staff.

How can we make the waiting experience feel more secure while not creating a sense of distrust?
Hygiene:

 The center was a place to get clean, shower, do laundry, use the restroom, so the waiting area needed to be a place where hygiene was also maintained and respected.  

At the same time, the ReFresh Spot waiting area is located outdoors in a converted parking lot.

How can we make this environment feel more hygienic?
Reflection:

Many of the guests like to write when they are waiting for services. Some are students, some are artists and some are just looking for introspection and a break from the noise of the surrounding area.

 

At the same time, the waiting area is an opportunity for communication and interaction.

How do we create opportunities for reflection without precluding interaction?
The Sketch
After synthesizing our discoveries and presenting our ideas to community members for feedback, (and then synthesizing again), we were finally ready to start on what we had formerly known as the first stage of design--the sketch.
As a group, through drawing, we explored ways to adapt the donated chairs to provide security, a continuation of hygiene, and opportunities for both introspection and interaction.
The Prototype
We refined these sketches down to a few simple ideas that we could prototype quickly and cheaply in three dimensions.  This way, without investing too many resources into the prototype, we would be able to observe how they were used, adapted, or ignored in the space.  Resisting our urge as designers to make something beautiful and ideal, and with much encouragement from our d.school coach, we opted for basic materials of salvaged egg crates and  zip ties for our first set of prototypes.  
Our first round of prototypes aimed to address these three core needs:
Storage: if people have somewhere secure to hold their belongings while they wait, they will feel more able to relax and interact.  This storage also serves as a hygienic place to hold their belongings--keeping items off of the ground is key to items feeling less 'dirty' and extending the experience of cleanliness the ReFresh provides.


Surfaces: Surfaces for eating, writing, resting, and expanding outward will offer more ways for people to use the space--helping the experience of waiting to feel less like….well, waiting.


Connection:

connecting the seats allows us to see whether people prefer to sit together or alone. During Covid, this offers family pods or couples options for sitting together.
Observations
Along with the help of ReFresh staff members, and staff from office42 architecture, Would Works' team observed our prototypes in the waiting area for 24 hours.  Our key takeaways really proved the necessity of the prototype stage in any design process.
Under chair storage was not ergonomic/physically natural.  None of the under chair platforms were used to store bags.




Side storage was used widely, but mostly for smaller items--most bags people have with them are too large for side storage bins and ended up on the ground.




Guests did not tend to use the connected chairs to sit near others. Perhaps because of Covid? People preferred their own space, but liked these units because of the surface area they provided.




Surfaces were used for eating and setting things, but writing surfaces will need to extend onto the lap area


Many guests seemed to prefer to sit in the larger chairs that were recently purchased for larger guests.  We need to adapt our prototypes to work with this type of chair as well.





People gravitated towards the familiar--next time, we should leave the prototypes for longer than 24 hours so that daily guests have an opportunity to explore their use, and so they can become a familiar part of the built environment.
Next Steps
We are currently working on the following modifications to these first set of prototypes which we will test at the ReFresh Spot in the coming weeks.
We will adapt our prototypes to work with the oversize chairs as well.


We will test out a swivel top lap desk for writing


We will try hooks instead of bins for larger bag storage


We will start testing more permanent materials and hardware 


After another cycle of prototyping with user and community feedback, we will choose a set of adaptations that work well and will fabricate permanent fixtures with the next cohort of Would Works Artisans.  We also plan to build cubbies for the Refresh Spot staff supplies and a sidewalk bench for the front entryway.  
We are grateful for the generous scholarship from Stanford d.school and a grant from the USC Brittingham Social Enterprise Lab that made this project possible. Many thanks to Social Model Recovery Systems, Homeless Healthcare LA, office42 architecture, the Skid Row Community Improvement Coalition and all of the guests and staff at the Refresh Spot who shared their valuable perspective and stories.
Want to support more projects like this one?  Donate to our new Community Builders Program and you will not only be helping our Artisans build skills in furniture fabrication and community based design, but you will help us to provide much needed outdoor furniture to supportive housing sites, and service centers throughout LA.
---
Also in News
Recently, our Community Builders Program was tasked to fabricate a 12 foot long communal bench for the 56 unit Aster Apartments, an affordable housing site located in South LA.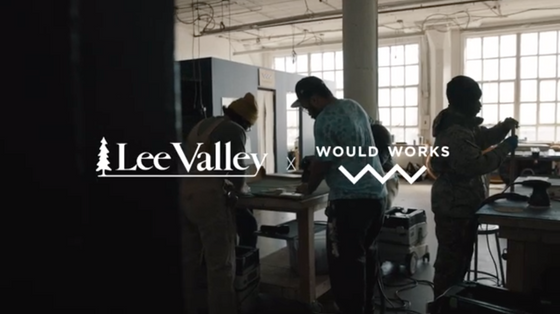 The last few months have been really exciting because we were invited to be apart of Canadian company 
Lee Valley
's ongoing series, 
Inspired to Make
.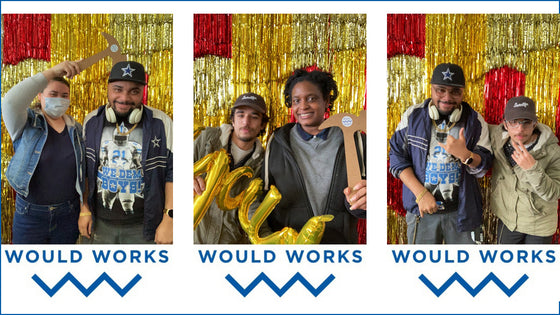 As we wrap up our Young Makers Fall/Winter cohort, we wanted to take a moment to celebrate all the inspiring youth that came through the program from our referral partner Jovenes last year.