2-Year Forest Service Grant Supports WW Furniture Program!
From just about any vantage point in Los Angeles, including the Skid Row neighborhood where most of our clients live, you can see the stunning snow capped peaks of the San Gabriel Mountain range and the sprawling Angeles National Forest. Despite this proximity, the disconnect between the urban experience and the surrounding forest is pronounced and inequitable.
A new grant from the US Forest Service helps Would Works connect the people residing in the most densely populated and tree poor neighborhoods in LA with the diverse urban forest and thriving surrounding woodlands.
We are thrilled to announce a new $50,000 two-year Wood Innovations Program grant for our LA TIMBER BRIDGE project proposal.  This funding supports our existing Community Builders Program which trains and employs housing insecure LA residents in furniture design and fabrication for outdoor communal spaces around LA.
In addition, Would Works staff and Artisans will work with the Angeles National Forest to acquire felled trees from wildfire prevention projects in the urban/rural interface around LA.  These trees will be milled and seasoned by the urban sawyers at Angel City Lumber in LA to produce sustainable lumber for Would Works' products and upcoming outdoor furniture line.
WW Artisan Lead, Shirley, sitting on the newly completed outdoor bench, made from a felled Eucalyptus tree from LA, for the Willowbrook Supportive Housing Site.
LA TIMBER BRIDGE provides employment and job training for people experiencing poverty, creates sustainable wood furniture for people who are transitioning out of homelessness, and bridges the gap between urban communities and the surrounding wildlands.
We are grateful to the US Forest Service for recognizing our work and we look forward to this exciting partnership.
---
Also in News
Recently, our Community Builders Program was tasked to fabricate a 12 foot long communal bench for the 56 unit Aster Apartments, an affordable housing site located in South LA.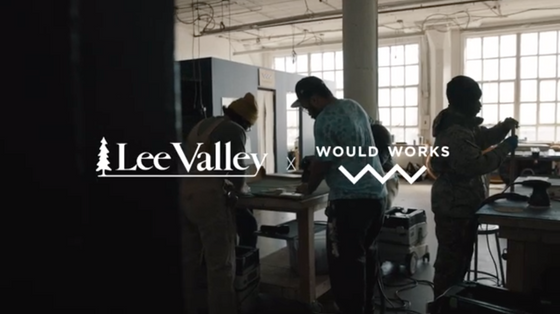 The last few months have been really exciting because we were invited to be apart of Canadian company 
Lee Valley
's ongoing series, 
Inspired to Make
.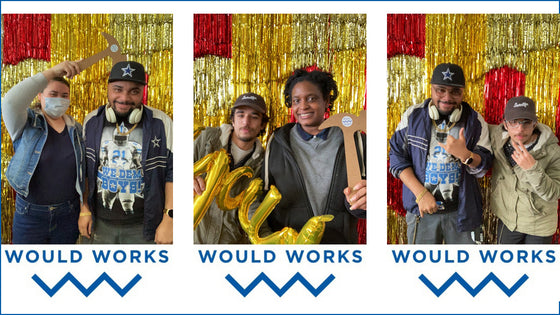 As we wrap up our Young Makers Fall/Winter cohort, we wanted to take a moment to celebrate all the inspiring youth that came through the program from our referral partner Jovenes last year.