Meet Our Young Makers

Meet Taaj, Tim and Quinn – Three of our Artisans in Would Works' Young Makers Program. 
The Young Makers Program provides youth the opportunity to learn the beginning fundamentals of woodworking. At WW they learn to fabricate homeware products and furniture all the while gaining experience using tools and machines in the wood shop that will prepare them for jobs when they graduate from our program.
"Something that's really changed about me – My communication skills. You gotta' have that in this adult world, if you don't, you're not going to be able to survive" said Taaj.
WW youth program will introduce at-promise young people experiencing homelessness to the craft of woodworking and design. In addition to building these tangible skills, the young Artisans will also develop their soft job skills such as collaboration, communication, self confidence, goal setting and follow through. These skills are valuable in a professional setting, but also instrumental to success in the rest of life.

"When we go to events, we also reach out to other people and let them know about our program. That's how we're making an impact for others as well" said Tim.
Our young artisans learn these essential skills while taking field trips to lumber yards, pop up recruitment and sales events and furniture installments. In addition to communicating with our staff and one another, they are able to network with other professionals within the community giving way to future opportunities. 
Thank you to the California Arts Council!
With the support of JUMP StARTS, we recently received an extension of the original $50,000 grant for another $25,000! The JUMP StArts program supports arts and culture education, apprenticeship and/or mentorship for system-engaged, system-impacted, and/or at-promise youth and young people through the age of 24.
To learn more about our Young Makers program, CLICK HERE! 
Leave a comment
Comments will be approved before showing up.
---
Also in Our Artisans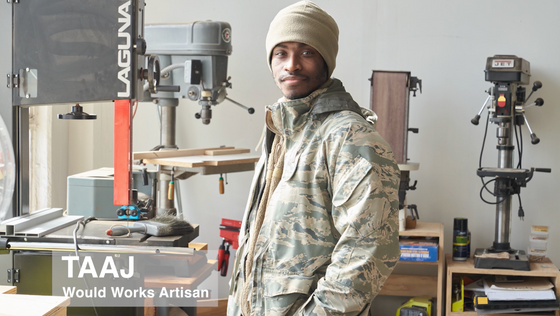 Taaj is one of our Artisans who is a part of our Young Makers Program. After serving in the U.S. Airforce Taaj found himself out of work leading to him becoming unhoused. 
Would Works is Brunisha's first job and she is excelling. Stay tuned for her full bio--and click on "read more" to see her profile video.
In the last year, during COVID, David says his living situation became dire and he knew he needed help. He has always loved making things and working with his hands, so he Googled 'woodworking' and 'homeless," and learned about Would Works.