Artisans take a tour of our creative partners around LA
Most days the Fall 2021 Would Works Artisan cohort can be found in our small workshop, cranking out wood cutting boards for our already bustling holiday sales.   Last week was different. Program Director Michele Liu decided it was time for a break and a good old fashioned field trip to meet some of our invaluable creative partners around LA.  She wanted to give the Artisans context for where our wood is coming from, and what other artisans in the community are making with it.  

"As we transition into building a more robust training program we felt it was important for the Artisans to see the full picture what woodworking is like from beginning to end." says Liu. 
Angel City Lumber was started by woodworker Jeff Perry in 2015 with just a chainsaw and a dream.  His mission was to save city trees that fell ill from blight or came down in storms from ending up in the landfill. ACL has grown over the years to a thriving business that provides unique lumber made from LA street trees to woodworkers, architects and designers across Southern California. 
In 2017, ACL gave a corner of their valuable floor space to Would Works, where we hosted our first weekly workshops.  Since then, ACL has provided us with exceptional one-of-a-kind lumber for our small batch LA Street Tree edition products such as the LA City Blocks.  
Our Artisans loved seeing the trees, the impressive mill and kiln that turns them into usable lumber, and the exquisite showroom of slabs. 
Bohnhoff Lumber is a family owned business that has been a cornerstone in the Los Angeles woodworking community since it first opened in 1910. Providing sustainable hardwood lumber to small scale furniture makers and large scale contractors alike, Bohnhoff has been been the go-to source of high quality wood for just about everyone we know. 
When Would Works launched in 2016, Bohnhoff Lumber generously agreed to donate the hardwood lumber and milling services we use for all our cutting and serving boards. 
At this visit, Would Works Artisans got to see the yard, the machine room, and the most impressive towers of lumber! Thanks to Mike Bohnhoff and the whole team for the tour and all your support over the years!
Final Stop: Offerman Woodshop in Glendale
Offerman Woodshop and owner Nick Offerman go way back with Would Works.  In 2016 Nick ran a dollar for dollar match fundraising campaign that allowed Would Works to scale up our programming and business model allowing for four times more employment opportunities and creative engagement for people experiencing homelessness in LA. 
Offerman Woodshop staff Lee Buchanan, Krystal Shelley and Matt Micucci helped Would Works get off the ground and continue to run workshops and lead the organization. 
Meanwhile, former Would Works Artisans have enjoyed further training and employment at OWS after completing our program. Offerman generously donates machining services for our product line.
Our Artisans enjoyed seeing the full scale machine room and meeting the skilled artisans designing and building outstanding fine furniture for clients across the country.
Thanks to our community partners for sharing your work with us last week!
---
Also in News
Recently, our Community Builders Program was tasked to fabricate a 12 foot long communal bench for the 56 unit Aster Apartments, an affordable housing site located in South LA.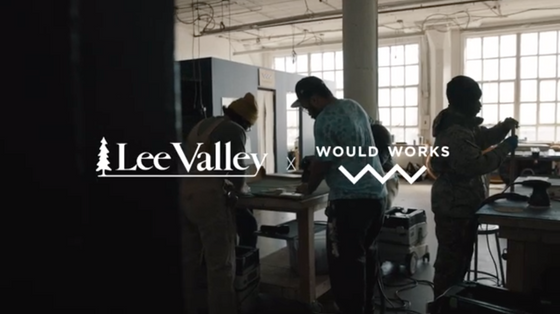 The last few months have been really exciting because we were invited to be apart of Canadian company 
Lee Valley
's ongoing series, 
Inspired to Make
.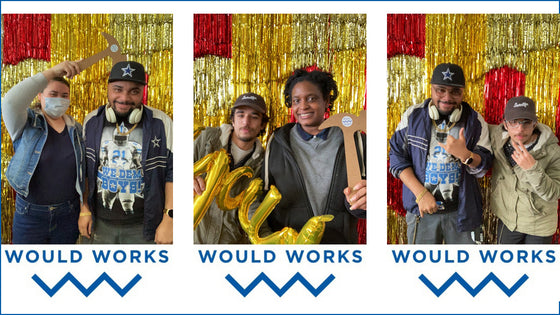 As we wrap up our Young Makers Fall/Winter cohort, we wanted to take a moment to celebrate all the inspiring youth that came through the program from our referral partner Jovenes last year.