Javier
Javier didn't show up to his first interview with Michele, Would Works' Program Director, because he had been recently released from jail and didn't have clothes to wear. Michele assured him he didn't need to wear anything special, and encouraged him to meet her anyway. She was impressed by his work experience and his willingness to commute from San Bernardino to the Would Works workshop in Highland Park. "I wake up at 3:00am to get to Would Works…I like being punctual," Javier says, explaining that the program is worth the long bus ride because he learns valuable skills with good people. He has enjoyed his experience so much that he wants to continue working as an Artisan for as long as possible. 
Prior to incarceration, Javier worked as a chef and ran his own business. But, he says, "I'm an ex-gang member and I've lived on and off the streets my whole life." Javier's gang affiliation has made it difficult to maintain stability.
At Would Works, Javier enjoys sanding and would like to learn wood burning. He particularly enjoys working with his fellow artisan David, who impressed Javier with photos of the wood surf board he built. "I asked David, 'How can I be your protege?'" he laughs, grateful for the friendships he has made through the program. 
Javier has seven kids who keep him busy, and a commitment to his daughter keeps him focused. "I promised her I would stay a straight arrow," he says with a grin. 
Leave a comment
Comments will be approved before showing up.
---
Also in Our Artisans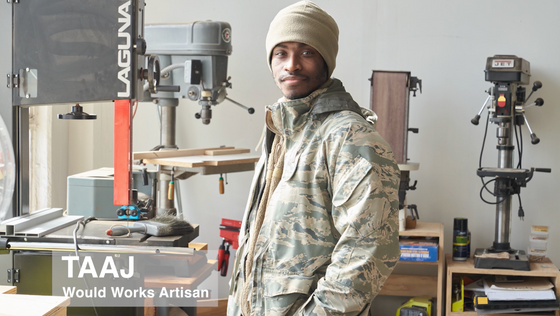 Taaj is one of our Artisans who is a part of our Young Makers Program. After serving in the U.S. Airforce Taaj found himself out of work leading to him becoming unhoused.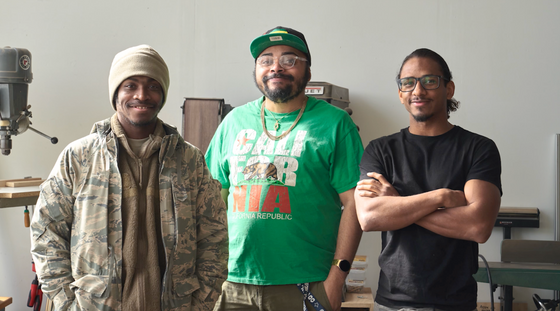 Meet Taaj, Tim and Quinn – Three of our Artisans in Would Works' Young Makers Program. 
The Young Makers Program provides youth the opportunity to learn the beginning fundamentals of woodworking. At WW they learn to fabricate kitchen products and furniture all the while gaining experience using tools and machines in the wood shop that will prepare them for jobs when they graduate from our program.
Would Works is Brunisha's first job and she is excelling. Stay tuned for her full bio--and click on "read more" to see her profile video.