Magdalena
Magdelena came to Would Works through our employment partners at the amazing
Downtown Women's Center
 (DTWC).  She is a participating artist in the successful social enterprise run by DTWC called 
Made by DTWC
 and is known for her skilled crocheting.  In addition to her work at Would Works and DTWC, Magdelena is taking daily classes towards getting her GED.  Her drive is inspiring to us all, as is her story.  
Magdelena had a difficult childhood in Guatemala full of 
abuse and conflict.  When she got older she decided she had had enough and moved to the US.  Settling originally in Sacramento, she went to the Belmont School to learn ESL and worked as a seamstress.  While in Sacramento she met her husband and raised their four kids.   
Her fourth and last pregnancy was a difficult and painful one and revealed scars of a buried and traumatic past.  During the C-section the doctor noticed there was something wrong with her liver.  After the child was safely born the doctor removed a portion of her liver with two bullets lodged in it.  When questioned about when she was shot she couldn't remember.  But after some time memories came back to her Guatemalan childhood where she remembers being shot while at school.  Everyone was so scared and didn't want to cause trouble she said.  So we can only assume she was treated by family and friends.  


Magdalena and her husband eventually divorced and her life started to go downhill.  She moved to LA where she was homeless and lived on the streets.  At first all she had was a blanket which was loaned to her by another woman experiencing homelessness.  Eventually she got a tent and that's where she spent her first cold winter. 
'That tent saved my life' she says. 
Eventually she was connected to permanent housing at the DTWC--which she loves!  She's been there for five years now and things are going well.
At Would Works, Magdelena is working towards housing expenses and transportation costs to see her children for the holidays. We are thankful for all her hard work and are rooting for her to reach all of her goals in life!
Leave a comment
Comments will be approved before showing up.
---
Also in Our Artisans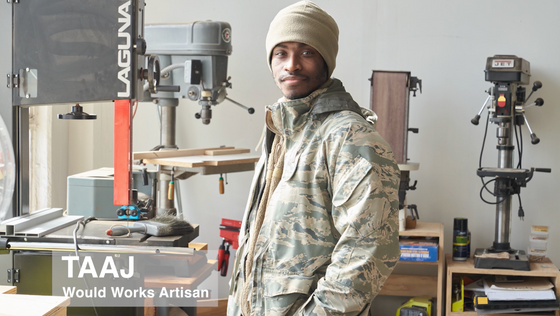 Taaj is one of our Artisans who is a part of our Young Makers Program. After serving in the U.S. Airforce Taaj found himself out of work leading to him becoming unhoused.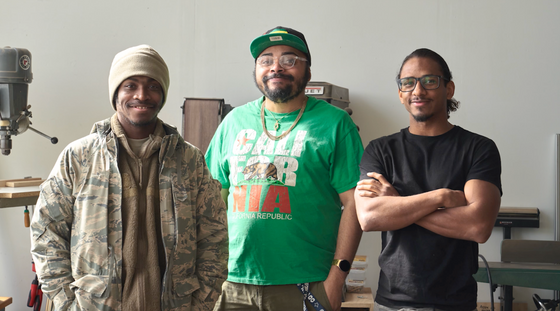 Meet Taaj, Tim and Quinn – Three of our Artisans in Would Works' Young Makers Program. 
The Young Makers Program provides youth the opportunity to learn the beginning fundamentals of woodworking. At WW they learn to fabricate kitchen products and furniture all the while gaining experience using tools and machines in the wood shop that will prepare them for jobs when they graduate from our program.
Would Works is Brunisha's first job and she is excelling. Stay tuned for her full bio--and click on "read more" to see her profile video.