Marella
Marella was born and raised in Los Angeles. Her father was a contractor and encouraged her to help him build fences and take on other building projects when she was young. "I like working with my hands and love refinishing furniture," she says.

Marella worked for many years in the entertainment and corporate world, at HBO and Revolution Pictures, among others. But during the recession she was laid off. She tried working on architectural digs in Belize and then returned to work on presidential campaigns for Obama and Hilary Clinton. After Clinton lost the 2016 election, Marella lost her job, and when her husband fell ill, she stayed home to care for him. Ultimately, she lost her home and found herself living on the streets. She has been homeless for about a year.

I spoke with Marella on her last day Would Works. "As a team we've really learned to love each other. We're all a little weepy that we're not going to be part of our team…but we'll find a new way to stay in touch."

Marella is particularly appreciative of the love and support shown to her by her teachers at Would Works, where she found she was especially good at rounding corners and overseeing quality control. "Lee is amazing…she has the heart of a teacher. It's a special thing," she says of Would Works' program director.

Marella speaks eloquently about the difficulties of rebuilding your life if you can't print resumes, and don't have interview clothes or a phone to pursue jobs. "It's a full time job to get a shower and meals." She describes long waits, violence, drama, and shelter shut downs that get in the way of meeting basic needs. "It's hard to have leftover mental and emotional energy to work on the long term stuff. We're down at the bottom of the hierarchy of needs," she explains, referring to the psychologist Abraham Maslow's pyramid of human needs.

She started a blog, "Diary of a Homeless Woman" to detail the experiences of homelessness, and she hopes it will help others. Her short term goal is to pay her phone bill and buy winter clothes. Then she plans to buy a laptop and print resumes for job applications. She dreams of paying her own bills and getting a new scratching post for her kitty.

"If living in poverty or being homeless as a woman is sandpaper on the heart, then Would Works has definitely been the salve…it really has."

Thank you for your work and for telling your story, Marella. We wish you and your kitty the very best.
Leave a comment
Comments will be approved before showing up.
---
Also in Our Artisans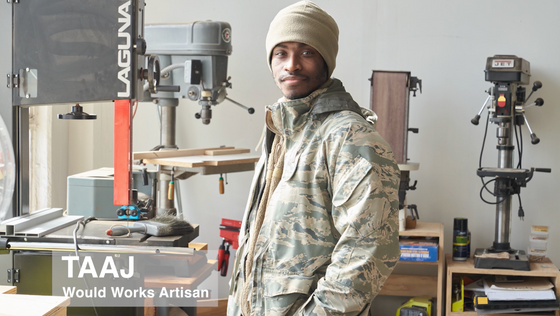 Taaj is one of our Artisans who is a part of our Young Makers Program. After serving in the U.S. Airforce Taaj found himself out of work leading to him becoming unhoused.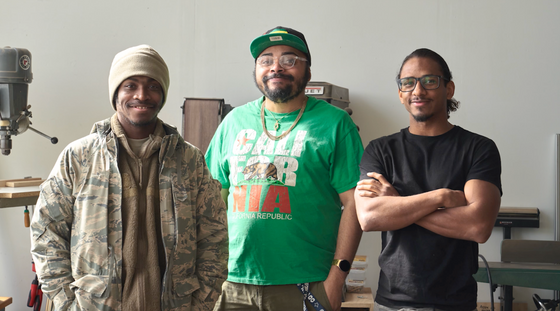 Meet Taaj, Tim and Quinn – Three of our Artisans in Would Works' Young Makers Program. 
The Young Makers Program provides youth the opportunity to learn the beginning fundamentals of woodworking. At WW they learn to fabricate kitchen products and furniture all the while gaining experience using tools and machines in the wood shop that will prepare them for jobs when they graduate from our program.
Would Works is Brunisha's first job and she is excelling. Stay tuned for her full bio--and click on "read more" to see her profile video.