Nathanie
Nathanie comes from the island of Dominica. She has worked in various capacities in fields as diverse as Government, Dentistry and Marketing. Her life has been riddled with domestic violence and although she fought hard to mend strained relationships, violence upended her family life, career and the future she had imagined for herself.  Abandoned by her family, Nathanie has struggled with chronic homelessness and isolation, but she has decidedly not let her circumstance define her experience.
"I have never stopped being ambitious even if I am in this homeless situation...even if I'm homeless I shouldn't stop working at my dreams and investing in myself."
This sentiment is evident in her resume of recent accomplishments in areas of social activism, artistic productivity, and civic participation. As a performing artist she performed in fundraisers for the Anti-Human Trafficking movement in Las Vegas, helping to raise money for victims. She is a four-time published author of poetry, including her most recent poem "The Hero in Me", which you can see performed live in the video below.  From her time in marketing, she also has published content online. She is actively engaged in many of the services and resources available in Downtown LA--seeking employment support from Chrysalis, shelter and community at the Downtown Women's Center, and a creative outlet in the Urban Possibilities Program.  
Nathanie came to Would Works with the goal of paying rent on the storage unit where she stores her valuables until she's able to get into stable housing.  In addition to meeting this immediate need, she has also discovered the transformative power of woodworking: 
"Anything I can create with my hands and see an outcome from it, I'm like yeah...At the end of the day I look at it and its like-WOW-it doesn't even feel like wood any more it feels like glass....it's just amazing the different outcome I see after sanding and finishing"
We're happy we were able to help Nathanie meet an immediate financial goal, but she also has life goals that are much more expansive and ambitious than this. With her attitude, talent and spirit--we believe she will reach them all.
Nathanie's other poetry publications include: "True Beauty", 1990 World of Poetry Anthology and "Young Folk Check Up On Your Life", 1991 National Library of Poetry Anthology
Leave a comment
Comments will be approved before showing up.
---
Also in Our Artisans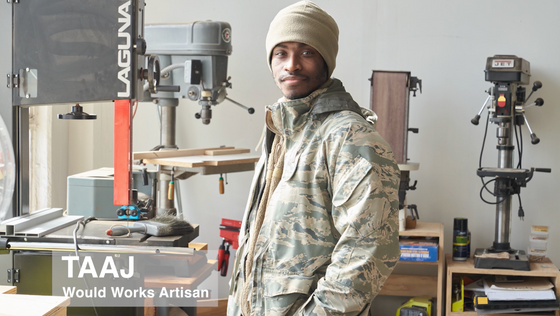 Taaj is one of our Artisans who is a part of our Young Makers Program. After serving in the U.S. Airforce Taaj found himself out of work leading to him becoming unhoused.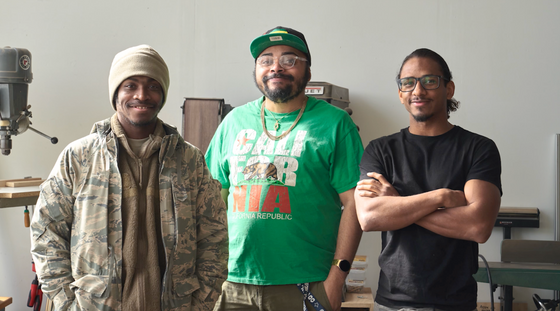 Meet Taaj, Tim and Quinn – Three of our Artisans in Would Works' Young Makers Program. 
The Young Makers Program provides youth the opportunity to learn the beginning fundamentals of woodworking. At WW they learn to fabricate kitchen products and furniture all the while gaining experience using tools and machines in the wood shop that will prepare them for jobs when they graduate from our program.
Would Works is Brunisha's first job and she is excelling. Stay tuned for her full bio--and click on "read more" to see her profile video.